Regular price
Sale price
$9.99 USD
Unit price
per
Sale
Sold out
Learn how to dehydrate food, become more confident in your skills, and be more productive with your
 

dehydrator.

You'll learn safe
Food handling,
Dehydrating processes
Food storage principles
Plus many uses and ideas for your dehydrated foods!
Dehydrating food is an amazing way to preserve that doesn't require a pressure canner, is more stable than frozen foods, and can be taken on hiking and camping trips. 
What's included:
Dehydrating Basics - Digital Version
The most often asked questions about dehydrating and the basics of how to dehydrate. Perfect for beginners and a great refresher for those dehydrating food for a while.
How long does it take to dry food?
What

 

dehydrator

 

should I get?
What is

 

conditioning?
When is food dry?
Does dehydrating cause nutrient loss?
Can I turn my machine off overnight?
How do I store dehydrated foods?
How to use dehydrated foods?
Dehydrating Journal Pages
Each journal page can be individually printed as you need them to create your own dehydrating binder or print them off at once. I've also included a blank journal page for any projects you want to create on your own!
Each journal page is created for each specific food with:
How to directions
Tips for use, preparation, or alternative drying tips
A section for yields
Dehydrating Recipes
I've included fifteen tried and true ways of using your dehydrated foods -- from seasoning blends to meals in a jar to fun snacks to try!
These handy answers to all your questions are perfect for teaching beginning dehydrators and refresh those dehydrating for a while.
This digital, downloadable, pdf guide will walk you through the basics of dehydrating, give you helpful tips along the way, and allow you to feel confident in making use of your dehydrator to create wonderful snacks, and store food in your pantry that your family will love, and create long-term storage. This may not work with Kindle products, it is best used with desktops, phones, Android tablets, and iOS devices.
If you would prefer a physical copy of the book - please see this option.
How I recommend you use this book:
Download to your device where you normally keep downloads. I don't recommend printing off the Dehydrating Basics portion of the book but keep it handy for reference.
Print off only the journal pages you need as you begin working through your projects - or print them all off in one batch and get your dehydrating binder ready to go! A blank page is included to print off as many times as you need to record any project you want to expand and grow on your own!
While there are a few full-color pages in the book, you can choose the ink saver or black-and-white-only option for your particular printer.
Hint: If you go to a shop like Staples, you can use their copy machines to print only the journal sheets.
This is a Digital Download; no physical product will be delivered.
Page Count: 170 pages

Delivered as: Digital Download
Print Size: 8.5x11 inch (A4) paper
Other Versions Available
Dehydrating Basics & Journal
Share
View full details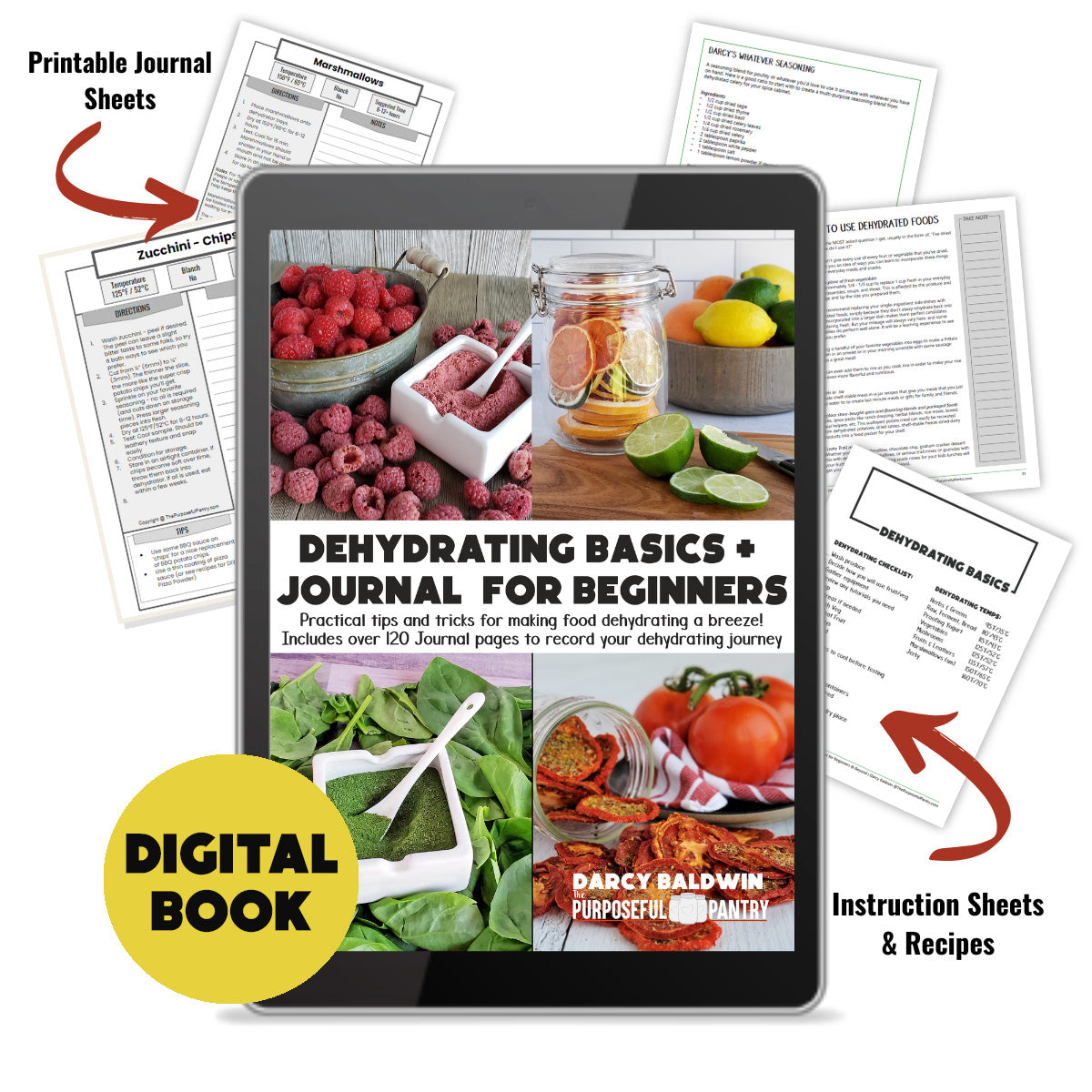 Shipping FAQ's
When will the book ship?

Books are print-on-demand and will ship within approximately two weeks.
Will I get tracking information?

An email is sent with a tracking code as soon as the book is shipped.
When will magnets & stickers ship?

Magnets, stickers and checklists are sent through first class mail within three business days.
When will I get my t-shirt or mug?

Clothing, kitchenware and other merch come from a third party vendor who will send you info on when the products will ship.
I ordered an e-book; how will it arrive?

Digital Products will be released through email immediately.
The Journal Review
I found it to be so helpful.
Best gift for myself
Love that each fruit/veggie has it own page. I can print just what I need. Got a binder to put everything in to keep with my dehydrator. Simple to use and take a lot of the guessing out of what I did this time, the outcome, and I can make notes to myself to change what didn't work.
Dehydrating Basics & Journal Ebook
Great.very detail and easy to understand
Dehydrating Basics and Journal ebook
Thank you for this wonderful and absolutely complete resource for dehydration! And thank you Darcy for all the passion and hard work done for us on this site. It's a real joy and fun time to watch you teach us how to use this dehydration method in preserving our foods, saving us money while enjoying the ride!